Created by Marc DUVAL in 1999, The White Clay Stone is made in France by Bio-Sorélia.
This year has already been 23 years that the firm Bio-Sorélia has worked for ecology and the conservation of the planet.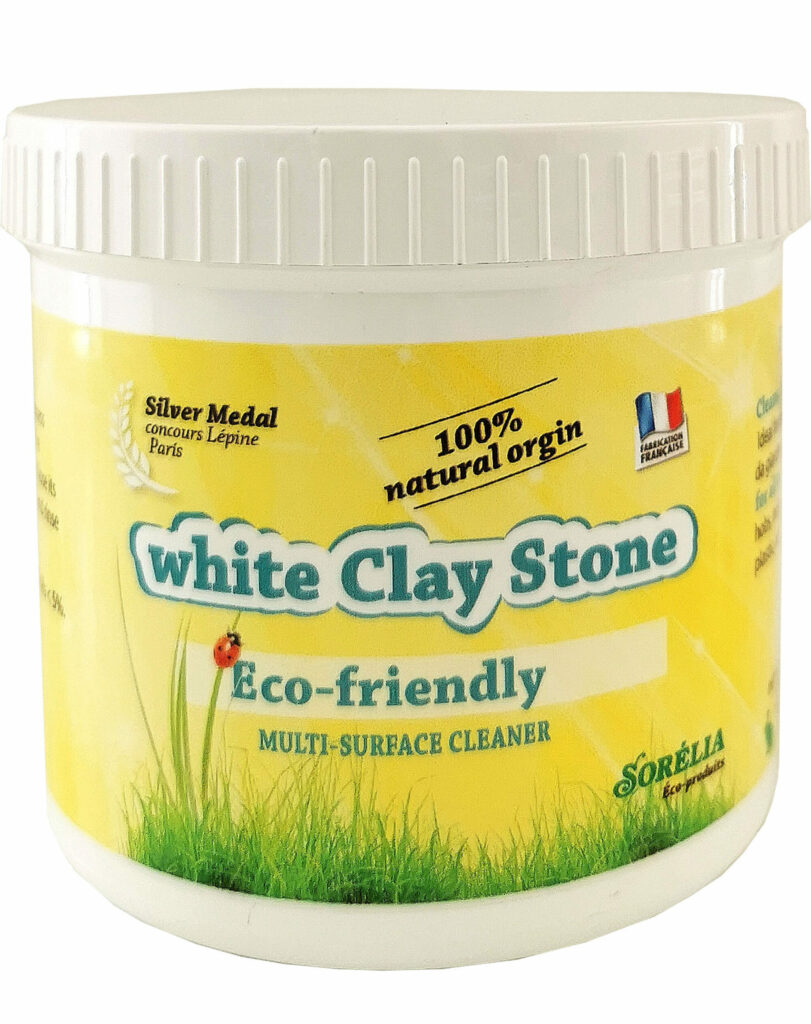 Do you know that the white clay stone is 100 % natural and scented with essential oils ?
There is not a more cost-effective or more ecological all-purpose cleaning product than the clay stone.
White clay stone cleans, degreases, descales and desoxidises all surfaces.

Some examples :
In the kitchen: glass ceramic or induction hob, oven (door, oven rack), dishes and pans, kitchen sink, taps, fridge.

In the bathroom: washbasins, bathtub, shower screen, wall tiles, taps.

In the garden: garden furniture, plastic toys, PVC shutters and gates, barbecue, plancha.

And even more: car rims and windscreens, trainers etc.
Its use is very easy, you simply use the sponge included in the pot. For that, you wet the sponge and squeeze it out before applying it to the stone to take some of the product.
As a matter of fact if the sponge is soaked, the product will be diluted and will lose a great part of its efficiency.
Then rub the surfaces you wish to clean and rinse with clear water.
You can use a microfiber cloth to finish wiping like you would on a glass ceramic or induction stove top.
Bio-Sorelia offers you the manufacture of white clay stone under your brand name.
Other tips to discover, click-here
Information in french, click-here